Data Logger LogMessage
Data Logger LogMessage is a stand alone operating device for acquiring, monitoring, calculating and logging measurement data. It is equipped with a 1GB memory for logging up to 128 million measurement values.

All analog inputs can be used universally and are capable of measuring any type of thermocouple, RTD, voltage or current signal. Channel configuration takes place via the easy to use DataService Configurator software included with the delivery.
Once configured, LogMessage can operate stand alone and requires no PC support. Configuration and data readout takes place via a network interface. Alarm notifications and text messages may also be transmitted using a GSM modem.
Data Loggers LogMessage are supplied with the powerful ProfiSignal Go software. ProfiSignal Go is a professional PC software for the online and offline monitoring and analysis of measurement data.
User benefits:
ProfiSignal Go software included in package

LAN interface for data transfer

Differential and galvanic isolation of inputs

Integrated signal conditioning

1GB internal memory for 128 million data records

2 configurable serial ports

Protocols: Modbus RTU and TCP, separate protocols

A range of internal calculation and logic channels

Monitoring and alarm functions

Drivers: OCX, OPC, LabVIEW™, DASYLab™, dot.net

Web Server interface
Various Applications:
Stand alone, universal data logging

Temperature measurement

Remote data transfer via GSM / UMTS

Tests and trials

Product testing and quality assurance

Process monitoring and alarm functions

Process data acquisition

Fault analysis with recorder functions

Laboratory data acquisition and management

GPS logging

Facility monitoring

Status and event logging

Energy consumption acquisition and measurement
Software channels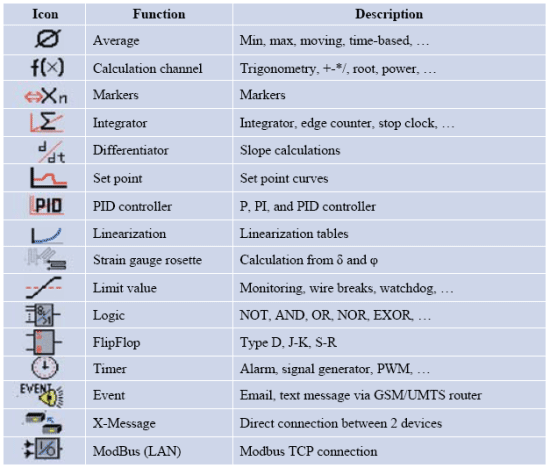 Have a question?